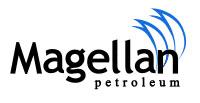 Magellan Petroleum Corporation announced that on March 25, 2014, the Company began injecting CO2 into the Charles formation at Poplar Dome through the EPU 202-IW well, marking the beginning of the injection phase of the Company's CO2-enhanced oil recovery (CO2-EOR) pilot program.
As previously announced by the Company, the CO2 volumes necessary to conduct the pilot will be supplied by Air Liquide Industrial U.S. LP. Air Liquide is the world leader in gases for industry, health and the environment.
The pilot program consists of five wells, including the CO2-injection well mentioned above and four producer wells.