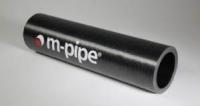 Magma Global has signed a joint development agreement with BP and Subsea 7 in a project to qualify Magma's carbon fibre m-pipe® as the next generation of subsea pipelines. The programme is also supported by the National Composites Centre (NCC) and Innovate UK, the Government initiative established to support pioneering technologies in the energy sector.
Magma's m-pipe® is a high strength, lightweight, corrosion-resistant, fully bonded, composite thermoplastic pipe which is stronger than steel and traditional flexibles, and is typically one tenth the weight. The high specific strength and corrosion resistant nature of composite technology makes it ideal for the oil & gas industry where deep water environments and corrosive fluids challenge the integrity of steel structures. Manufactured from highest quality carbon fibre and PEEK polymer materials, m-pipe® is immune to corrosion and is suitable for a wide spectrum of fluids and gases.
The qualification programme, which runs for 30 months, targets 6in to 12in pipes for risers and jumper systems for deep water environments and includes laminate testing (Elevated T and Aged properties), single load tests (tensile, burst, collapse, bending, torsion, compression, impact) and combined load tests (axial bending, collapse bending, pressure bending, axial pressure bending).