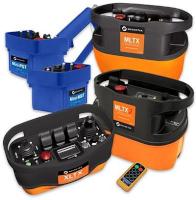 Magnetek, Inc., provider of digital power and motion control systems, will be exhibiting at the 2016 Offshore Technology Conference, located at NRG Park in Houston, May 2-5. Visitors to the Company's booth, 9356, will be able to experience a range of Magnetek's wireless controls, including their ATEX, IECEx, and NEC certified wireless controls for off-shore oil and gas applications, as well as their miniature transmitters for a variety of industries and environments.
ATEX compliance, required by the European Union, certifies that Magnetek wireless controls are safe to use in potentially explosive areas with flammable gases or vapors. IECEx equipment certification signifies that Magnetek's wireless controls conform to international safety standards for environments where a potential exists for explosions. By gaining these certifications, the Company's XLTX and MLTX2 transmitters may be used in EX Zone 0, Zone 1, and Zone 2 environments that involve potentially explosive situations due to the production or release of gases or vapors. The MLTX transmitter delivers a cost-effective option to meet North American requirements. MLTX is a non-incendive transmitter intended for use in hazardous locations requiring ISA 12.12.01 Class I and Class II, Division 2, Group A, B, C, D, E, F, and G.
Magnetek offers a range of miniature wireless controls, the Flex Mini, Mini-MBT, and Mini-PGT, which allow customers to choose the exact functionality, size, and style to fit a variety of applications. Providing many of the capabilities and configuration options found in full-size transmitters, these lighter, smaller controls are easy and comfortable to use.