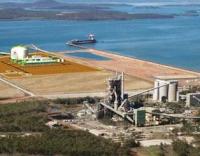 Liquefied Natural Gas Limited provides an update on the status of Information Requests from the United States Federal Energy Regulatory Commission (FERC) in relation to the Company's wholly owned subsidiary, Magnolia LNG LLC (MLNG).
The Company is has received the anticipated Engineering Data information request from FERC, with a planned Company response date of 29 December 2014. As noted in previous releases, these information requests are part of the normal process for applications filed under Sections 3 and 7 of the Natural Gas Act for LNG terminals in the USA, and allow FERC to clarify certain aspects of the filings to assist them to complete and issue a draft Environmental Impact Statement (DEIS) for the Magnolia LNG project.
The Engineering Data Request represents a major milestone in the FERC Filing process, and is usually one of the final information requests sought by FERC before the issue of a Notice of Schedule and DEIS. In addition the timing of the request will enable the agreed outcomes to be included in the final detailed engineering design by the proposed EPC contractor, the SKE&C Group that is to be completed by 31 March 2015. LNGL Managing Director and CEO, Mr Maurice Brand, said that he was very pleased with the solid progress being made to finalise the FERC Filing progress and the targeted issue of a Notice of Schedule in early 2015.