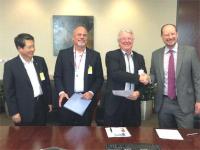 Liquefied Natural Gas Limited says that its wholly owned subsidiary, Magnolia LNG LLC (MLNG), has executed a Memorandum of Understanding (MOU) with Kellogg Brown & Root LLC, a wholly owned subsidiary of KBR, Inc. (KBR) and SKE&C USA, Inc, (SKEC) whereby KBR and SKEC propose to execute a Joint Venture Agreement (JVA) on a 70/30 percent participation basis to deliver the 8 mtpa four train Magnolia LNG Project.
The MOU follows the execution of a Technical Services Agreement with SKEC in March 2014 and a subsequent Technical Services Agreement with KBR that was announced on the 5 January 2015.
Under the Technical Services Agreements the parties will complete all due diligence in relation to technical commercial and contractual matters that will enable the EPC JV to execute a lump sum, turnkey engineering, procurement, construction, commissioning, start-up and performance testing EPC Contract for the LNG plant.