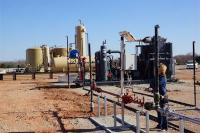 Magnolia Petroleum has appointed Mr. Thomas Wagenhofer to the Board as a Non-executive Director with immediate effect. Mr. Wagenhofer is a highly respected petroleum engineer and oil and gas investment specialist with over 20 years' experience in the global E&P sector.
Mr. Wagenhofer is a founder and Technical Lead of Giant Capital, a leading provider of growth capital to high-quality, undervalued oil and gas companies. Giant funds the acquisition, appraisal, and development of hydrocarbon reserves. Thomas is a member of Giant's investment committee and also acts as Technical Advisor on E&P investments to many investor clients. At Giant, he is responsible for conducting technical and commercial due diligence on potential investment opportunities and also works closely with the management of investee companies to assist with capital deployment.
Prior to founding Giant in 2011, Thomas was Senior Managing Director of Metals and Energy Capital at Macquarie Bank Limited, where he acted as Technical Lead on oil and gas transactions. Other positions he previously held include: Vice President of Ryder Scott Company (1999-2004) where he was responsible for third party reserves studies and reservoir development projects; and Research Engineer at Atlantic Richfield Company (1996-1998) where his duties included asset valuation and production optimisation studies. Thomas is a certified Professional Engineer in Texas, US. He holds an MSE in Petroleum Engineering from the University of Texas and a BS in Petroleum Engineering from the University of Alaska.