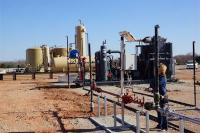 Magnolia Petroleum says the Shimanek #2 vertical well in Oklahoma reached total depth ('TD') of 5,300 feet on 24 July 2015. The Well encountered hydrocarbons in the targeted conventional zones, including the Lower Skinner, Redfork Sand and Mississippi Lime/Chat, in line with the pre-drill geological model.
Due to high salt water saturation levels and the high costs associated with the disposal of the salt water, the decision has been made to plug rather than complete the Well to limit the total cost of operations to US$175,000, and allocate the remaining US$400,000 in the Shimanek budget for new drilling activity.
The Shimanek #2 well has no effect on Magnolia's plans to drill conventional prospects identified on other leases within its portfolio.