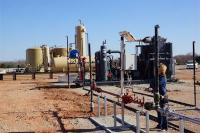 Magnolia Petroleum reports initial production rates for six wells in the Woodford and Mississippi Lime formations, Oklahoma. Magnolia holds a 4.1% net revenue interest in each of these Devon Energy operated wells which, combined, add 96 boepd to Magnolia's net production.
This update is in line with the Company's strategy to rapidly build production through drilling and prove up the reserves on its leases.
All the above wells have been drilled on the same spacing unit to maximise the recovery of reserves. Production from the above wells is expected to decline from initial elevated levels which are based on a 10 day average rate.