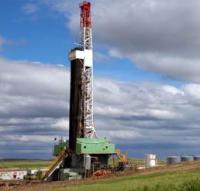 Magnum Hunter Resources Corporation says that its Board of Directors has approved a $100 million upstream capital expenditure budget for fiscal year 2015.
Of this amount, the Company has allocated approximately $70 million to its Utica Shale and Marcellus Shale exploration and development drilling program in Ohio and West Virginia, approximately $10 million to its properties in the Williston Basin in North Dakota (substantially all of which are non-operated properties) and approximately $20 million for leasehold acreage acquisitions in the Utica and Marcellus Shale plays.
The Company expects this Appalachian focused upstream capital expenditure program to further drive its production volumes and enable it to maintain its projected 2015 average daily production volumes of approximately 29,000 - 33,000 BOE per day.
At the midstream operations, the Company's pro rata portion of the capital expenditure budget is expected to be funded by Eureka Hunter's existing senior credit facility and by Eureka Hunter's other principal owner pursuant to pre-existing funding arrangements between the Company and the other principal owner established last year.