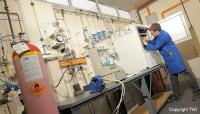 joint industry project (JIP) has been launched between Swagelining Limited, Saudi Aramco and The Welding Institute (TWI) to conduct investigations into the use of polymer lining in carbon steel pipelines. The JIP will examine the extent of corrosion incurred in a polymer lined pipeline when subjected to a sour hydrocarbon fluid environment.
Between the three parties, a total of £330,000 has been invested into the project, which commenced in October 2014 and is expected to last 30 months.
Dr Steve Brogden, technical engineering manager at Swagelining Limited, said: "We are delighted to be working closely with Saudi Aramco and TWI on this JIP. When compared with corrosion resistant alloys, polymer lining systems are attracting growing interest within the pipeline industry. This comes as a result of significant cost advantages, increased corrosion prevention and reduced fabrication and installation time.
"All three parties felt that it was time to build upon this interest and demonstrate concrete evidence of how polymer lining can perform under a range of conditions.
"We are excited by the potential this JIP brings and look forward to seeing the results. We are confident this will represent a step change in pipeline management, particularly as we see operators looking to reduce costs whilst maintaining a high level of operational efficiency."