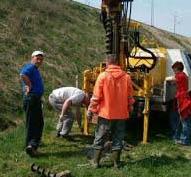 GeoPartners, in partnership with Seabird Exploration Multi-Client Ltd and DownUnder GeoSolutions, announce a major new multiclient 2D (MC2D) seismic project located in the Frontier UK Rockall Basin offshore the NW coast of Scotland, titled Rockall Regional 2013/2014.
A successful 2013 reconnaissance programme has achieved a step change in data quality over existing legacy data and paved the way for a comprehensive MC2D seismic project, the second phase of which was acquired during July and August 2014. This project represents the first significant data acquisition in this area for more than a decade.
A total of 5000-line km of geologically focused data will shortly be available for interpretation. The recent acquisition has adopted the same long offset broad band approach successfully piloted in the 2013 acquisition and processing.