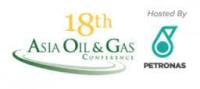 The 18th Asia Oil and Gas Conference (AOGC) got underway in Kuala Lumpur today.
Over the next two days attendees are set to hear from global oil and gas industry leaders, and enjoy a programmed packed with new features such as the CEO Strategic Dialogue and Energy Hotspot, as well as an expanded exhibition showcasing the latest products, technologies and services.
At the conference opening ceremony The Prime Minister Dato' Sri Haji Mohammad Najib bin Tun Haji Abdul Razak said: "Oil and gas are huge and indispensible parts of our lives and our economies today. And I believe that this 18th Asia and Gas Conference is a critical gathering of stakeholders who can discuss and guide us on some of the most complex challenges that face us today, the great advantages that already exist in Asia – Pacific, and the opportunities that are opening up".
Responding to the Prime Minister, Datuk Wan Zulkiflee Bin Wan Ariffin, President and Group Chief Operating Officer, PETRONAS, called on the industry to be optimistic and realise the "opportunities amidst the challenges, to initiate reforms, build workforce capability and explore new ways to increase competitiveness".
At this morning's inaugural CEO Strategic Dialogue, top-level discussions centred on cost reduction through improved efficiency, the use of new technology and the need to focus on revenue generating projects. According to Datuk Wan Zulkiflee Bin Wan Ariffin, collaboration is important for the industry to survive the current downturn. The industry must continue to invest wisely while enhancing cost optimisation and decreasing inefficiencies.