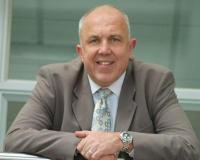 In its meeting on October 7th the Supervisory Board of MAN Diesel & Turbo has appointed Wayne Jones as new Chief Sales Officer. The 49 year old manager will take on his new role on January 1st 2016 and succeeds Dr. Uwe Lauber, who had fulfilled a double duty as the company's CSO and CEO in 2015.
"Wayne Jones has been leading a billion Euro business with great success over many years. He is a sales representative by heart and has been essential to the development of our market leading service brand MAN PrimeServ. By appointing him as Chief Sales Officer the Board further strengthens its focus on service and customer orientation. I have made it my mission to promote customer focus and proximity as core guiding principles at MAN Diesel & Turbo. A lot of progress has been made over the past 12 months and the time is right to pass the sales responsibility into exclusive hands now."
Working with MAN since 2005, Wayne Jones has been leading the company's Diesel engine After Sales and Service business since 2010. He started his MAN carreer as head of the UK Aftermarket Business before becoming the country's Managing Director still in the same year. Before joining MAN he has been working at Sulzer Pumps for more than a decade.