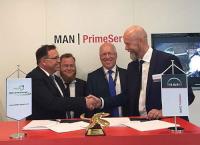 MAN Diesel & Turbo has signed a cooperation agreement with MM-Offshore, a major German supplier of ship's equipment to the international shipbuilding market.
The impetus for the agreement stems from the marine industry's constant efforts to enhance ship performance. These have resulted in highly efficient propulsion and manoeuvring systems with both now optimised – individually – essentially to perfection.
Poul Knudsgaard – Vice President and Head of the Aft Ship & Propeller department – MAN Diesel and Turbo, says, "Any further potential for improving overall efficiency can only be realised through a combined optimisation of propeller and rudder systems, using a holistic approach that takes the interaction between these two vital components – as well as the ship's hull – into consideration."
He adds, "A number of recent projects have already documented how beneficial such a combined optimisation could be for ship designers, operators and owners in achieving low fuel and operating costs, as well as attaining a low EEDI. I welcome this agreement with MM-Offshore and look forward to developing our technology together and making further gains in terms of propulsion efficiency."
Jan Hamann, President of MM-Offshore, says, "A further refinement of this concept – aided by modern and advanced simulation and calculation tools – requires a coordinated effort right from the initial design phase of the vessel before the ship design is frozen. The focus of this cooperation agreement will be on developing common propulsion and manoeuvring solutions for different ship types using each company's unique experience and know-how, and I am already looking very much forward to the results."
The agreement aligns the two companies' strategies so they can jointly develop and offer solutions to the marine market related to:
The optimisation of the complete propulsion system, including the interaction of propeller and rudder in order to create a partnership between both systems.
The provision of optimised propulsion solutions based on MAN Diesel & Turbo's proprietary Kappel propeller design, optimised rudder bulb and hub-fairing cones, and MM-Offshore's advanced EMPRESS – twisted rudder designs.
The application of energy-saving devices, optimised and combined.
The technical coordination of common shipbuilding projects to ensure overall optimum solutions with clear benefits for ship designers, ship yards, ship owners and operators.