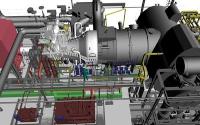 MAN Diesel & Turbo SE a wholly owned subsidiary of MAN SE (part of Volkswagen AG) acquires 100% of the shares of MaxWatt Turbines Pvt. Ltd., an Indian specialist company for engineering, production and service of steam turbines for applications in power generation and mechanical drives.
After the acquisition MaxWatt will be integrated into the Turbo business of MDT and the new entity will operate under the name MAN Turbomachinery India Pvt. Ltd.
"MaxWatt is a well-established player in the Indian and Asian power generation business in the lower power segment", says Dr. Uwe Lauber, CEO and Chief Sales Officer of MAN Diesel & Turbo SE.
"By acquiring them we expand our portfolio and add steam turbines for numerous standard applications to our existing high end product range. At the same time we gain access to new customer groups and market segments. MAN Diesel & Turbo has always chased M&A projects, if they satisfy a sound strategic rationale. With MaxWatt there are close to zero overlaps in the product ranges, which is why it is an excellent match for us."
MaxWatt Managing Director C. G. Venkatesh, who will continue to lead the business, also welcomes the acquisition: "MAN Diesel & Turbo is a global premium brand and leading company in the power generation business. MaxWatt customers all over the world will profit from an extended product range, a worldwide sales and service network and the know-how of a global player, all of which will be gained thanks to this merger."