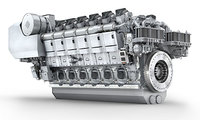 MAN has revealed the successor to its 48/60CR engine in the company's 4x line of high-performance diesel engines. The MAN 45/60CR marine diesel engine will initially be available as 12V and 14V versions that boast power outputs, of 15,600 and 18,200 kW respectively, with inline versions following at a later stage. For land-based power generation applications, MAN has developed the maximum power version, the 20V45/60 with 26 MW.
Wayne Jones, Chief Sales Officer of MAN Diesel & Turbo, says, "The new engine combines the best features of the current 48/60CR, such as MAN's common-rail system with ECOMAP capability, and adds new technologies such as two-stage turbocharging for an unrivalled specific fuel oil consumption. The resultant reduction in operating expenses and positive environmental impact are sure to attract strong market interest."
MAN Diesel & Turbo states that the 45/60CR's power increase and low consumption are particularly aimed at such key, lifecycle-cost-oriented applications as cruise liners, RoPax ferries, RoRo vessels, and dredgers. The company is making the 45/60CR engine available first as 12V and 14V versions with 6L to 10L variants to follow later. It reports that the engine has been conceived from the beginning as a family concept that will accommodate future derivatives, for example, such as a dual-fuel derivative.
The first set of V-type engines will be available from end-2020 with delivery of the first L-type engines due from 2022.
Jones adds, "With this engine, innovative engineering meets the vast experience of a world market-leader in four-stroke engine design. MAN's 4x family has accumulated millions of operating hours all over the world and we have listened closely to the needs of our customers. Accordingly, we knew exactly where we wanted to go in engineering the next generation of this global success story: We were aiming for a game-changing level in power density and efficiency, and we accomplished that mission."
Dr Gunnar Stiesch, Head of Engineering Engines at MAN Diesel & Turbo, says, "Next to a frontloading approach, using thermodynamic engine process calculations, we used computational fluid dynamics to simulate and optimise the combustion process. Also, finite elements analysis was used to optimise the engine's mechanical strength and vibration behaviour. We then put the power unit to the test on the world's largest, four-stroke, single-cylinder test engine and started the experimental optimisation and validation phase."
The new engine is also a new centrepiece of MAN's extended systems approach which reflects in the company's latest generation digital Safety and Control System, SaCoS 5000. Following a decentralised design concept, SaCoS 5000 offers unprecedented data availability and optimised alarm visualisation and diagnosis. "Thanks to the new SaCoS, the MAN 45/60CR is not only online-ready but also equipped for the digital future of power generation", states Stiesch.
The two-stage turbocharger module rounds off the MAN 45/60CR's superior profile. MAN Diesel & Turbo is the pioneer in developing and operating two-stage turbocharging for large-bore engines, a concept which achieves excel-lent efficiency thanks to a low-pressure and a high-pressure turbocharger arranged in series. "We are the only company in the market that develops both engine and turbochargers", says Stiesch. "This unique, in-house competence allows us to truly tailor-design this engine for optimised two-stage turbocharging and to unleash its full potential. It's also noteworthy that, despite the turbo-charging being two-stage, load pick-up behaviour is the same as for the single-stage turbocharged 48/60CR engine. Operators thus profit from maximised peak pressure and optimal utilisation of the Miller Cycle."