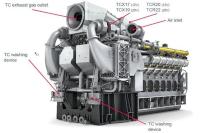 MAN Diesel & Turbo has passed a significant milestone with the announcement that it has delivered its 1,000th turbocharger to two-stage turbocharged applications.
MAN has a long history in two-stage turbocharging and first evaluated the technology back in the 1970s. In late-2000, MAN focused on the technology to improve its four-stroke portfolio, resulting in the development of MAN ECOCHARGE, a combination of low- and high-pressure stages with intercooling that significantly improves engine performance.
MAN Diesel & Turbo reports selling the 1,000th turbocharger for two-stage turbocharging during May 2016.
"Besides our core company business that covers marine and power applications, we also deliver a large number of our turbochargers to other engine builders throughout the world. Through our OEM business, we have gained a great deal of experience in applications that are atypical for MAN Diesel & Turbo, such as mechanical drives, locomotives or mining," says Ragnar Olafsson, Head of Sales OEM Applications Turbocharger, MAN Diesel & Turbo.
The ECOCHARGE principle optimally combines a low-pressure turbocharger – usually a TCA or TCR – with a high-pressure stage for which the newly developed TCX series was designed. Both the TCA and TCR series are well-proven in the field and can, respectively, boast of 7,000 and 10,000 market references.