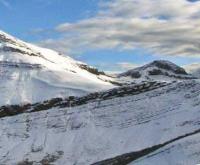 Manitok Energy Inc. has successfully drilled, completed and tested its latest two wells in Cordel-Stolberg.
The first well (the "Cardium Well") targeted Cardium oil in the back-limb of the Stolberg structure in the center of the field.
The Cardium Well is the first well of a 3 to 4 well pad in which Manitok has a 30% working interest. The Cardium Well encountered a fractured reservoir which is consistent with the most productive wells in both the north and south ends of the field and is encouraging for the remaining locations that Manitok has on the backlimb of the structure.