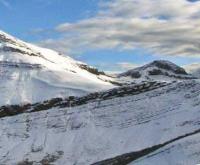 Manitok Energy Inc. has drilled a horizontal well at 3-9-23-25W4, testing the lower Basal Quartz (BQ) formation in the southern end of the Entice field. This is the third well of a planned 10 well horizontal drilling program at Entice where Manitok has a 100% working interest.
A multi-stage fracture completion was successfully executed, and after an initial clean out stage, the well began flowing on its own. During the production test, the well flowed for a total of 2.9 days at an average rate of 177 bbls/d of 27° API oil and 1.14 Mmcf/d of natural gas for a total rate of 367 boe/d. The cost to drill and complete the well was approximately $2.7 million.
The results from the above-noted well and the previously announced 3-28-22-25W4 well, provides Manitok with a significant number of development locations in both the middle and lower BQ formations at the south end of its Entice lands.