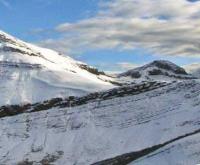 Manitok Energy Inc. provide an update on its 2013 drilling program.
Drilling Update
The 18th Stolberg Cardium oil well, the second of a 3 well pad on section 29 where Manitok has a 79% working interest, was recently production tested. The unstimulated horizontal well was swabbed over approximately a 72 hour period, at an average of rate of 320 bbls/d (253 net) of about 42º API oil and very little associated gas over the period. Manitok believes that once the well is placed on production using a gas lift system similar to other Manitok oil wells at Stolberg, flow rates may be improved. The drilling of the third well on the pad is well underway. The 3 well pad is anticipated to be on temporary production in December 2013 and on permanent facilities in early January 2014.
Manitok's recently drilled, unstimulated, Stolberg Ostracod gas well (75% working interest) flowed at an average rate of 4.0 mmcf/d (3.0 net) over a 38 hour period. During the last 23 hours of the test, the well flowed at a very stable rate of 4.6 mmcf/d (3.5 net) with 42 bbl/d (32 net) of wellhead condensate. The well is anticipated to be on production in December 2013.