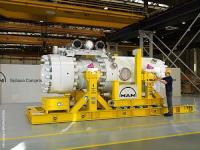 Both subsea compression trains at Statoil's Åsgard field have achieved more than 25,000 operation hours with an availability close to 100%. The world's first subsea gas compression facility features two MAN Diesel & Turbo HOFIM™ motor-compressor units.
The Åsgard subsea compression system has officially reached the highest Technology Readiness Level (TRL) 7 with both trains surpassing 10'000 operating hours. The subsea facility demonstrated an availability close to 100 % – the very few interruptions were caused by failure of the power supply from the vessel. "MAN Diesel & Turbo's persistence in driving technology solutions forward leads to this ground-breaking success for the entire oil and gas industry – the world's first subsea compression system is now field-proven technology," explains Uwe Lauber, CEO of MAN Diesel & Turbo SE. "This important achievement proves that MAN's subsea compression technology is mature and ready to be applied by the industry."
MAN's HOFIM™ motor-compressors were supplied to Statoil's contractor Aker Solutions. The units help to extend the reservoirs' productive life on the Åsgard field for another 15 years. Overall, 306 million barrels of oil equivalent will be added.
The team behind the Åsgard subsea compressor technology has received the UTF (Underwater Technology Foundation) Subsea Award in June 2017. Key individuals within Statoil Norway and MAN Diesel & Turbo in Zurich have been awarded for their dedicated work during the joint development project and for today's results which add proven value to the oil and gas industry.
"The close development work with Statoil has always been very open and fruitful, which is essential to be successful," says Patrik Meli, MAN's head of engineering compressors and Åsgard project director. "Our HOFIM™ motor-compressor units have been in operation with practically no stops or interruptions since production start in September 2015."
MAN Diesel & Turbo has worked with Statoil on a joint subsea compressor qualification program. The project required an extremely robust motor-compressor design in order to withstand the harsh conditions of subsea environments. The adapted subsea HOFIM™ features a tailored motor design, casings designed for 220 bar pressure, a 7-axes active magnetic bearing system and a special cooling gas extraction.
Compressors are used to maintain output as reservoir pressure at gas-producing fields drops over time. They are typically installed on platforms above sea level. The two 11.5 MW HOFIM™ motor-compressor-units at Åsgard are the world's first compressors in operation 300 metres below sea level.
Compared to conventional upstream facilities on platforms or FPSOs (Floating Production, Storage and Offloading), the subsea technology works more cost-effectively, safely and with a smaller environmental footprint.