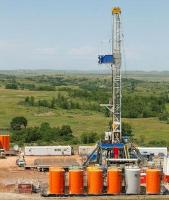 Marathon Oil Corporation, through its wholly owned subsidiary Marathon Oil KDV B.V., announced that the Jisik-1 exploration well has discovered multiple stacked oil and natural gas producing zones on the Company's operated Harir Block in the Kurdistan Region of Iraq.
Located approximately 40 miles northeast of Erbil, the Jisik-1 well was drilled to a total depth of approximately 15,000 feet. Oil and natural gas shows were noted over an extensive gross interval of both Jurassic and Triassic reservoirs. A drill-stem testing program yielded a sustained flow rate of 6,100 barrels per day of oil, and multiple non-associated gas zones flowed at a combined rate of approximately 10-15 million cubic feet per day, without stimulation, together with associated condensate, all of which were equipment constrained. The Jisik-1 well will be suspended for potential future use as a producing well.
Marathon Oil is the operator of the Harir Block, with a 45 percent working interest. Total holds a 35 percent working interest and the Kurdistan Regional Government holds a 20 percent carried interest.