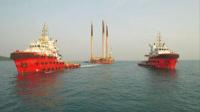 Marine Contracting announced the successful move of the Cendor Mobile Offshore Production Unit (MOPU) from the Cendor field, offshore Malaysia to Batam, Indonesia for upgrade work en route to its eventual destination in the Wassana field in the Gulf of Thailand.
The successful towing by Marine Contracting was carried out on behalf of the Cendor MOPU's owner Singapore-based Kris Energy, an independent upstream oil & gas company who recently purchased the MOPU from Global Process Systems. The MOPU will go into dry dock for minor refurbishments prior to being positioned on the Wassana field in the Gulf of Thailand G10/G48 license, where production is expected to start in the second half of 2015.
Said Wolfgang Wandl, Marine Contracting's CEO, "We are delighted to have completed the first leg of this highly complex operation that involves one of South East Asia's most high profile offshore installations. The success is down to the technical expertise and professionalism of the Marine Contracting team.