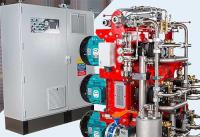 Marioff, the company known for its HI-FOG® water mist fire protection systems, has announced an upgraded version of the new HI-FOG Electric Pump Unit (EPU). With this upgrade, the HI-FOG Electric Pump Unit has the capability to house up to eight electric motors in a single pump skid, which is ideal for marine and industrial applications, or any location requiring larger flow capacities, such as large commercial buildings. Marioff, a developer of water mist fire protection technology, is a part of UTC Climate, Controls & Security, a unit of United Technologies Corp.
"The upgraded version of the HI-FOG EPU is an important and natural extension of the HI-FOG product family. Customers looking for fire safety solutions for larger applications now have the option to protect their space with additional water flow, without having to install multiple pump units," says Markku Vuorisalo, director of engineering for Marioff Corporation Oy.
The upgraded EPU pump unit skid will have an additional "tower" of electric motors, but will use the same control cabinet as the original HI-FOG EPU product.