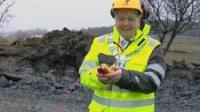 The mayor from the municipality of Tysvær in Rogaland, Sigmund Lier, pushed the button to set off one of the explosive charges at Haugsneset. The event marked the start of construction work for the power-from-shore solution.
This is an important milestone in the development of the giant Johan Sverdrup field that will be powered from shore, when it starts production in late 2019.
The work is done by principal supplier Aibel, and the sub-suppliers Veidekke and Vassbakk & Stol. At peak between 100 – 120 construction workers will be working at the construction site, 2 kilometers east of Kårstø.
The site and convertor station building will be ready for installation of the HVDC convertor system (delivered by ABB) in the spring of 2017, and for the cable to be laid out to the Johan Sverdrup field in the spring of 2018.