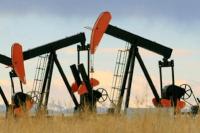 Marksmen Energy Inc. has entered into a joint venture agreement with Houghton Investments LLC whereby Marksmen will acquire a 50% working interest in a well on a lease of approximately 50 acres in Morrow County, Ohio, by paying 50% of the drilling and completion costs.
In addition to the first well, Marksmen has an option to participate in a second well under the same terms and conditions.
The target is a Cambrian Knox formation that Houghton delineated by using three dimensional seismic technology.