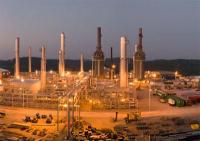 MarkWest Energy Partners, L.P. and The Energy & Minerals Group are executing definitive agreements with Gulfport Energy Corporation to provide stabilization services and potential gathering services for condensate produced within an area that includes Belmont, Harrison, Guernsey, Noble, and Monroe counties, Ohio.
Gulfport is rapidly developing their acreage within the wet gas, retrograde condensate and oil windows of the emerging Utica Shale and currently has over 147,000 net acres under lease. In conjunction with these agreements, MarkWest and EMG will form Ohio Condensate Company, LLC, a new joint venture related to the development of industry-leading facilities and services to support the rapid growth of condensate production occurring in the liquids-rich areas of the Utica Shale.
Discussions regarding the joint venture's condensate solutions are also underway with numerous other Utica producers. Initial infrastructure development will consist of a new condensate stabilization facility, with associated logistics and storage terminal capabilities to be constructed in Harrison County, Ohio and placed in service by the third quarter of 2014. The facility will have initial stabilization capacity of 23,000 barrels per day (bopd) and an immediate 30,000 bopd expansion is anticipated.