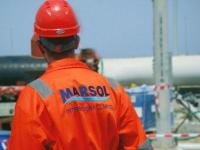 UAE-based global marine solutions provider, Marsol International and chemical engineering specialist Aubin Group has announced a partnership agreement to provide an 'industry first' total pigging solution for non-piggable pipelines.
Marsol and Aubin delivered a solution to achieve a world's first by completing the successful displacement of pipeline preservation fluid in three, 48 inch pipelines using sales oil providing an extremely cost effective, environmentally-friendly solution. This saved a client in excess of $3million.
Following successful field trials, the two firms have joined expertise to provide the Middle East, Far East and African markets with a complete product and engineering solution where conventional pigging is not applicable.