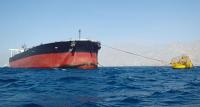 Marsol International, a UAE-based global marine solutions provider focused on the offshore oil terminal market and related infrastructure, has successfully supported Oman Oil Company Exploration & Production LLC's (OOCEP) first shipment of crude oil from the Musandam gas plant (MGP).
Marsol's involvement included the provision and management of all marine and offshore activities related to the tanker loading, via the single point mooring (SPM) offshore marine terminal including marine works, vessels, equipment and manpower. OOCEP, a subsidiary of Oman Oil Company S.A.O.C safely exported 300,000 barrels of crude oil as part of the operation, which were fully processed at the MGP on 4 May in Oman.
Mike Young, Director of Marsol International, says, "The successful exportation of the first crude oil from the newly constructed Musandam gas plant is a fantastic achievement for OOCEP and we are delighted to have been selected to support this operation. Our tanker operations and our product transfer services ensure safe and efficient mooring and unmooring at the SPM and are a crucial element of our asset integrity management service."
The Musandam gas plant, located on the west coast of the Musandam peninsula, has a processing capacity of up to 20,000 barrels of crude; 45 million cubic feet of gas and 75 tonnes of LPG per day.