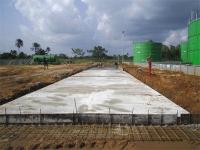 Mart Resources, Inc. and its co-venturers, Midwestern Oil and Gas Company Limited (Operator of the Umusadege field) and SunTrust Oil Company Limited are pleased to announce initial flow test rate results for the UMU-13 well at the Umusadege field in Nigeria.
UMU-13 Initial Flow Test Results and Drilling Update
As previously announced, the UMU-13 well encountered approximately 220 feet of gross oil pay in 11 sands. The UMU-13 well is a vertical well drilled to appraise a separate seismically-defined structure located east of the existing and producing Umusadege field. The sands selected for completion in the UMU-13 well were the XVIIb, XIX, and XXb sands, which have combined gross oil pay of 87 feet.
During initial flow testing, each of the three sands was tested at multiple choke settings ranging from 16/64 inch up to 40/64 inch. In all tests, no sand production or water production was observed.