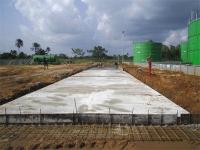 Mart Resources, Inc. and its co-venturers, Midwestern Oil and Gas Company Plc. (Operator of the Umusadege field) and SunTrust Oil Company Limited are pleased to announce initial flow rate test results for the UMU-11 well and an update on the UMU-10 well test.
UMU-11 Well Test Results
The UMU-11 well encountered 294 feet of gross oil pay in 13 sands. The well was intentionally drilled to a shallower depth than the UMU-9 and UMU-10 wells and therefore did not encounter the deeper sands encountered in previous wells. The sands selected for completion in the UMU-11 well were the IX, XIIb, and XIIIb sands, with combined gross oil pay of 84 feet. Using dual tubing string technology, two of these zones can be produced separately and simultaneously.
The testing of the IX sand yielded a flow rate of 1,324 bopd during clean up at 43 degree API crude oil on a 32/64 inch choke setting and flowing tubing head pressure of 230 psig. Basic sediment and water ("BS&W") was 0.1%.