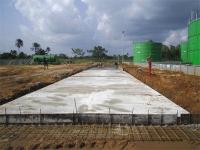 Mart Resources, Inc. and its co-venturers, Midwestern Oil and Gas Company Limited and SunTrust Oil Company Limited are providing the following updates on Umusadege field production for July 2014 and other operations.
July 2014 Production Update
Umusadege field production during July 2014 averaged 7,439 bopd. Aggregate Umusadege field downtime during July 2014 was approximately 11.7 days due to shutdowns of the Nigerian Agip Oil Company Limited (NAOC) export pipeline resulting from operational interruptions due to general pipeline repairs and maintenance.
There were five full down days during the month. The average field production based on producing days was 11,958 bopd in July 2014.