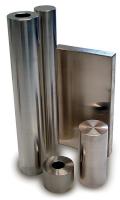 At this year's Offshore Technology Conference, Materion Corporation, an advanced materials solutions provider, will introduce two ToughMet products engineered to improve the reach, reliability and accuracy of oil and gas equipment components.
ToughMet 3® TS 130, a new temper of Materion's high strength, spinodally hardened copper-nickel-tin alloy, offers 10% greater ductility and yield strength of 140 ksi. This new temper can handle more strain in directional drilling tools, without galling or corrosion.
ToughMet 3® Large Diameter Bar offers very consistent properties throughout cross sections of the material – in diameters that more than double ToughMet size ranges – for greater versatility in more oil and gas applications, including larger drilling tool parts.
ToughMet 3 was originally developed for oil and gas applications, and it continues to fuel innovative solutions that enhance performance, production and profitability for the company's customers.
Last September, Materion introduced its patent-pending ToughMet 3 Sucker Rod Couplings which significantly extend coupling and production tubing life. Tested by Hess Corporation in North Dakota oilfields, the ToughMet couplings more than tripled the mean time between failures associated with couplings made of other materials.
"At Materion, we strive to deliver high quality products that meet the needs of our customers," says Bill Nielsen, marketing director for Bulk Products, Materion Performance Alloys. "Customers wanted a copper alloy that they could use for more components of their directional drilling tools. We modified ToughMet to get the strength and ductility they need. Customers have also been asking for larger diameter ToughMet bars for use in additional applications. We're pleased to be able to introduce both of these options at OTC this year."