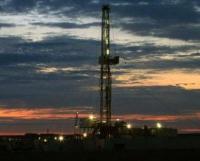 Max Petroleum is pleased to announce production test results at the Sagiz West field and the spudding of wells at the Sagiz West and Uytas fields.
The SAGW-5 well in the Sagiz West Field is currently testing a Triassic reservoir from depths between 1,324 and 1,330 metres. The well has tested at initial rates on various choke sizes between 100 and 240 barrels of oil per day ("bopd"), and is currently flowing at a stabilized rate of 110 bopd on a 10/64" choke. After testing for up to 90 days in this reservoir, the well will be recompleted in the next reservoir at depths between 1,283 and 1,296 metres.
The Company has also commenced drilling the SAGW-14 appraisal well, the seventh well to be drilled in the field that will further evaluate the southern end of the Sagiz West structure. SAGW-14 will be drilled to a total vertical depth of approximately 1,400 metres targeting Triassic reservoirs. The Company expects to drill an additional seven appraisal wells after SAGW-14 as part of its ongoing appraisal programme for the field.