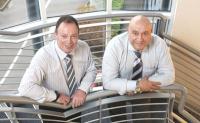 A continued commitment to maximising optimisation in the global oil and gas industry will be the key driving force behind the next phase in the growth of an Aberdeen-based consultancy as it marks its 10th anniversary by looking to the future.
Maxoil Solutions was founded in 2004 by Dr Wally Georgie and Mel Dow to bring together experienced consultants with a focus on operational expertise.
Both remain at the heart of the business, which has expanded from its Aberdeen roots to incorporate a base in Houston and a strong presence in Perth, Australia, and Stavanger in Norway as well as other key energy regions globally.
Senior management team members from across the world joined together in Aberdeen for a two-day gathering designed to celebrate the 10-year milestone and prepare for the next chapter in the company's story.