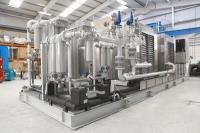 Aberdeen-based specialist MB Air Systems has completed its latest six-figure skid package design as the business continues to win contracts in the North Sea oil and gas sector.
The innovative solution was designed, assembled and tested on-site at Dyce before being dismantled, crated and shipped offshore for re-assembly and final installation on a North Sea platform. Offshore commissioning is carried out by MB Air Systems technicians based at Dyce.
At the heart of the latest skid package are two ATEX compliant MBR132ie-10 oil flooded rotary screw machines, designed to operate in an Ex II -/3 G c IIB T3 Hazardous Environment. Air treatment is provided by 2 x MXP105-40/Atex Dryers. The combined oil free, instrument air quality output from the compressors post air treatment is 33.7 SM3/Min.