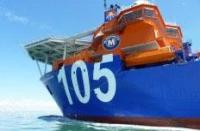 Asset Guardian Solutions Ltd (AGSL), which specialises in protecting companies' process critical software assets, announced that it has received a contract from McDermott Asia Pacific Pte. Ltd. (McDermott).
The contract requires AGSL to provide its Asset Guardian software management toolset to protect and manage the software installed on the process control systems that McDermott uses to operate several of the company's pipelay vessels.
Asset Guardian has been installed on the McDermott pipelay vessel North Ocean 105. Following this initial installation, configuration and testing period, Asset Guardian will be installed on the Construction Support Vessel 108 and North Ocean 102.
Streamlining Management of Change
A key factor in McDermott's decision to purchase Asset Guardian is its ability to streamline the management processes associated with making changes to the configurations of process software and to make certain that effective version control is in place. It also ensures that backups of new and modified software are securely stored and easy to access from any location. This minimises downtime caused by process system software failure.