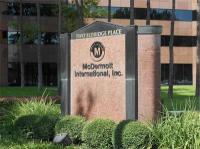 McDermott International, Inc. has completed the installation of a 3,086-ton central processing platform (CPP) topside using the tight-slot float-over method in the Kepodang gas field, Muriah Working Area, offshore Indonesia for PC Muriah Ltd, a wholly-owned subsidiary of Petronas. This brings the installation of all structures for the Kepodang project to a close.
McDermott commenced operations on this fast-track project, one month after the contract was awarded, in January 2013.
"The overall success of this project was made possible by the smart engineering of the float-over sequence to position the CPP topside next to an existing wellhead module already installed on the jacket at the installation site," said Hugh Cuthbertson, vice president and general manager, Asia Pacific.