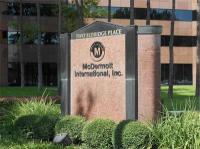 McDermott International, Inc. has appointed Stuart Spence as Executive Vice President and Chief Financial Officer following the departure of Perry L. Elders, Senior Vice President and Chief Financial Officer, effective August 23, 2014. Mr. Elders will be pursuing other opportunities.
Mr. Spence, age 45, has approximately 19 years of combined financial and operational management experience with companies in oilfield products and services and engineering and construction businesses.
Immediately prior to joining McDermott, Mr. Spence served as Vice President, Artificial Lift for Halliburton Company, where he had overall strategic and operational responsibility for Halliburton's artificial lift product and service line. Previously, he served as Senior Director, Strategy and Marketing for Halliburton's Completion and Production Division.