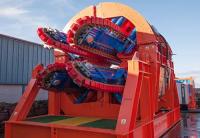 With its latest tensioner delivery, Maritime Developments (MDL) has introduced a new cost-cutting proposition to global flex lay.
Unveiled at a client Open Day at the company's testing facility in Peterhead, the 110-tonne 4- track pipelay tensioner has been newly incorporated into the MDL Offshore Service, making it the only system of its capacity readily available to take on projects worldwide. The TTS-4/310 retains the unique safety and operational features of MDL's 4-track tensioner range, including failsafe grip system, self-centring track system and a modular, roadtransportable design – making it an unparalleled solution for global offshore operators and vessel owners looking to maximise their project opportunities while simultaneously reducing costs.
Mike Gaskin, MDL Commercial Director, says, "Ever since we announced our plans to bring to the market a larger model of our patented tensioner, the interest in the system has been on a constant rise. This has confirmed that we read the sector's needs well, and demonstrates our commitment to delivering value propositions to the industry, rather than a single project-oriented commodity. Our flex-lay Offshore Service, which includes a highly skilled team of operators, is available to companies around the world who want to effectively reduce risks and costs on their flex-lay projects."
The 110-Te system is the biggest delivered by MDL to date, with three 50-Te systems preceding it – one of which is currently employed in South East Asia, and another used for operations across the North Sea.
This latest addition to MDL's Offshore Service suite complements a 50-Te 4-track system, three reel drive systems (RDS) and an overboarding chute, as well as a range of deck radius controlling equipment, control and power units and ancillary products – all operated by MDL experienced offshore crew.