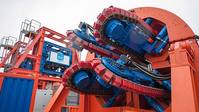 Maritime Developments is set to add a new pipelay tensioner to its Offshore Service fleet – the largest road-transportable system of its kind on the global rental market.
The MDL TTS-4/375 will be capable of 150 tonne pull force and 1,500 tonne nominal squeeze. It features a 5.5 metre track contact length, ensuring safe and optimum handling of a wide range of product types and diameters – and just like the rest of the MDL portfolio, it can be transported by road to reduce transit costs.
After its first project in the EMEA region, the system is set to move later this year to the company's new equipment base in Fourchon, Louisiana to form part of the MDL flex-lay spread available for hire in the Gulf of Mexico.
Due to its versatile design, the system can be used in vertical or horizontal mode, including on an incline, whilst maintaining all the unique safety features of the MDL TTS-4 range, including failsafe grip system, self-centring alignment and dual load monitoring.
The innovation, as well as the company's increased international activity, will be put on the spotlight at this year's Subsea UK Business Awards in Aberdeen, Scotland, where MDL has been shortlisted in three categories: Global Exports, Innovation & Technology and Innovation for Safety.
Exhibiting for the 7th year running, the company will hope to convert its presence at the show into cash for its chosen lifeboat charity, by running a prize raffle on the stand.
Derek Smith, CEO of MDL says, "Over the years, Subsea Expo has proven to be a highly valuable event, drawing in like-minded people, solely focused on the subsea sector – our specialist discipline. We have plenty to talk about at this year's show, now that we've ramped up our international activity with a new base in the Americas, and having grown our rental fleet further. We're also pleased to have been shortlisted for the prestigious Subsea UK Awards, which underpin our commitment to solving challenges faced by our customers worldwide."
"We hope that all this activity will generate plenty of traffic to the stand, so that we collect a healthy sum for the lifeboat – and that way give back to the industry that has given us so much over the last 18 years," Smith adds.