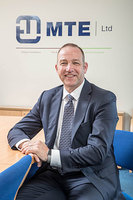 Mech-Tool Engineering Limited (MTE), product manufacturer and global supplier of fire, blast and heat hazard solutions has appointed a new Managing Director to drive the engineering powerhouse forward following the implementation of an internal restructuring programme.
Anthony G Jones steps into the role at the Darlington based company, having been with the firm since 2015. Joining MTE as Business Development Director for the company's Fire and Blast division, Anthony was promoted earlier this year to Divisional Director for MTE's Modular Solutions division. He has been instrumental in improving business operations, project delivery and securing additional business for MTE and will now be responsible for leading the business.
Anthony has a very strong commercial and operational background with over 28 years' experience in manufacturing and engineering. He has considerable experience in the Oil and Gas, Process and Energy Sectors and has held executive director and senior management roles for many of Europe's leading engineering companies, undertaking major projects and business throughout the UK, Norway, South Korea, Kazakhstan, India, SE Asia and the Middle East.
Speaking about the appointment, Marshall Garner, CEO at MTE says, "As a business we are constantly looking to improve our internal capabilities and streamline our operations to enhance our service delivery and client experience. In order to facilitate this – in what has been a turbulent market – it was essential for MTE to implement a solid restructuring programme. As such this will allow the business to continue to prosper, despite challenges the marketplace may present, although we are very optimistic about the current and future state. We have a solid pipeline over the next 12 months with lots of new opportunities and we are extremely confident that Anthony is the right person to drive the MTE business forward."
The company has recently announced it has secured two further contracts – awarded by Daewoo Shipbuilding and Marine Engineering (DSME) and Wood Group Mustang – for the world's largest oil and gas production projects, TengizChevrOil Future Growth Project-Wellhead Pressure Management Project (FGP-WPMP). This comes on the back of the company already well underway in delivering its largest value contract to date for the supply of complete turnkey modular solutions for Remote Instrument Enclosures (RIE's), on the TengizChevrOil project.
With a proven track record in business growth and development, change management and process improvement, Anthony will lead the restructuring programme – as recently reported – which has been instigated to ensure the business remains agile and capable in a continually changing market.
As part of the restructure there has been several internal senior promotions, as well as new senior members of staff joining the business and its board team.
Speaking about his new role, Anthony G. Jones says, "We have taken a very practical and considered approach over the last 12 months with the restructuring programme and we are extremely confident that these new and exciting changes will see the business flourish. I am extremely passionate about the business itself as well as the future progression of our staff. As such, it is essential that we have recognised people within the company who play a pivotal role in driving it forward, and that is exactly what we have done. We have a great team behind us, including world class designers and engineers and we will continue to deliver our weight efficient and cost effective products across the globe that meet, and in many cases exceed, the highest safety standards."
"The company has a strong pipeline for the next 12 months with lots of new opportunities on oil and gas, process and offshore wind farm projects which Mech-tool can support from its facilities in the UK and Korean business Mech-Tool Korea (MTK)," adds Jones.