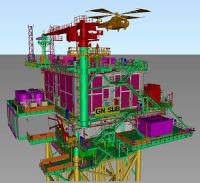 North East based engineering firm Mech-Tool Engineering Ltd has been awarded a major fire and blast wall contract by Heerema Fabrication Group (HFG). The contract will involve Mech-Tool Engineering Ltd delivering a full turnkey service, from design and engineering right through to the fabrication of internal and external stainless steel firewalls and louvres which will be deployed on the Galloper Offshore Wind Farm. The company will also supply internal and external doors and windows.
Predicted to generate power to up to 336,000 households, the Galloper Offshore Wind Farm – located off the coast of Suffolk - is an extension of the existing Greater Gabbard Wind Farm, currently being developed as its own separate entity.
Speaking about the new contract win, Anthony Jones, Business Development Director at Mech-Tool Engineering Ltd says, "We are delighted to have secured this prestigious contract from Heerema Fabrication Group (HFG) and to provide our world class fire and blast protection systems for one of the UK's leading offshore wind farm projects. Drawing on 46 years' experience, we are recognised as an industry leader for delivering the most cost effective and weight saving turnkey solutions, tailored to meet the specific needs of each project and to ensure that we meet our client's exact requirements. We firmly believe our bespoke approach and wealth of expertise plays a pivotal role in securing major contracts – exactly like this – from globally recognised major players in the industry."
Heerema Hartlepool is responsible for fabricating the unmanned offshore Galloper substation platform – awarded by Petrofac - where subsea array cables will connect turbine generators to a single Offshore Substation Platform (OSP). The platform has been scheduled to sail away early in 2017.
Jones adds, "Our design consultancy and fire and blast technical team is one of the best in the world and with unrivalled capabilities. With experience of working in extremely challenging conditions, we are constantly improving and building on our extensive knowledge base. We are very much looking forward to showcasing these capabilities on this project."