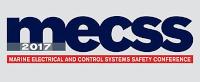 Rising to the challenge of the industry's fundamental responsibility of making people at sea safer, lies at the heart of the Marine Electrical and Control Systems Safety Conference (MECSS). The third conference in the series being held in Glasgow on 22 and 23 November 2017 continues the theme of 'Delivering integrated, dependable, safe and reliable systems' and will focus on four key areas – prominent hazards, cyber security, whole system, and operational matters, and is proof that determination to strive for ever greater safety levels is ever-present. The full MECSS 2017 conference programme, is now online at www.mecss.org.uk.
Organised by FIGS Events Limited on behalf of the Institute of Marine Engineering, Science and Technology (IMarEST)MECSS 2017, with speakers from Australia, the Netherlands, Norway and the UK, is being held at the University of Strathclyde's Technology & Innovation Centre (TIC) in Glasgow, with an Industrial Visit to the University's Power Networks Demonstration Centre (PNDC) open to all delegates the day before the official proceedings begin. Professor Sir Jim McDonald, Principal and Vice-Chancellor of the University and a Fellow of the Royal Academy of Engineering, the Royal Society of Edinburgh, the Institution of Engineering and Technology, and the Institute of Physics, will give the official welcome during the opening session of the conference on 22 November.
"It will be a fascinating two and a half days if, as we expect, many delegates will include the visit to the PNDC at Cumbernauld during their time in Glasgow," explains MECSS 2017 Conference Chairman, Kevin Daffey, Director Engineering & Technology, Marine at Rolls-Royce. "Our message to delegates is 'Be ready to acquire new knowledge, appreciate alternative approaches and standby to debate'."
"As our industry embraced electrification, it is appropriate that our first technical session 'Prominent Hazards', chaired by Jamie McCarthy of Rolls-Royce Marine Electrical Systems, is dominated by exploring hazards such as arc flash and energy storage system safety. Our second theme on Day One is 'Cyber Security' with Shaun White of Atlantic Pacific Marine in the chair. Not for the first time, MECSS delves into the emerging challenges that affect our marine industry and we'll see presentations by experts from the Netherlands, Australia and from the UK. A lively panel discussion is scheduled to end the working day before the conference reception hosted by The City of Glasgow at Glasgow City Chambers," continues Daffey.
"Three-quarters of our time on Day Two will be devoted to 'Whole System' with Paul Eaton of GE Power Conversion chairing the first session, and Dr Bob Meggs of BMT Defence Services the second. Design techniques such a probabilistic design and goal structured notation are introduced to MECSS delegates, and novel electrical system design and verification are also explored. Finally, as part of our 'Operational' theme, with Andrew Edmondson of BAE Systems Submarines in the chair, we delve into both operator enhancement using haptic feedback and the removal of people from ships with autonomous shipping," Daffey adds.
MECSS 2017 is aimed at senior international electrical power and technical engineers from the marine electrical control supply chain, design and technical authorities, merchant, commercial and navy industry personnel, ship owners and operators, class societies, safety assurance providers, automation systems manufacturers plus consultants and academia. Further information is available at www.mecss.org.uk and from mecss@figsevents.co.uk