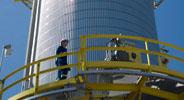 MEG Energy provides an update to its 2014 capital program and outlined its 2015 capital investment plan and production guidance.
2014 Capital Investment Update
MEG expects to invest approximately $1.2 billion in 2014, a reduction of 31% from its original 2014 budget of $1.8 billion, which included $200 million in discretionary spending. The lower level of 2014 capital spending was driven primarily through cost savings captured due to a change in emphasis from major greenfield projects to incremental brownfield expansions of existing facilities, as well as a shift in timing associated with longer-term projects.
2015 Capital Investment
"Our 2015 capital program is illustrative of MEG's ability to adapt to the current market conditions while still delivering meaningful growth," said Bill McCaffrey, President and Chief Executive Officer. "With only twenty per cent of our budget required to maintain our current level of production, we have significant flexibility within our plans should we need to further respond to the market environment."