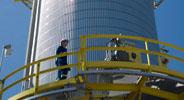 MEG Energy Corp. has formed a committee of the board of directors and has retained BMO Capital Markets and Credit Suisse.
The committee and the financial advisors will assist management in the review of options available to the Corporation to utilize its interest in the Access Pipeline to reduce the financial leverage of the Corporation. The committee consists of Boyd Anderson, Jeff McCaig and Jim McFarland.
While its outstanding long term debt is well structured, the Corporation believes that undertaking this deleveraging process will enhance its financial and operational profile in the current low commodity price environment and better position it to move forward with its growth plans once prices improve.