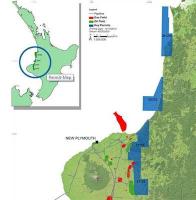 MEO Australia Limited has executed a contract with Drill Force New Zealand Ltd for the drilling of Puka-3.
Puka-3 is targeting Mt Messenger formation sands at about 1,580m True Vertical Depth that have been interpreted from the recent 50 km2 3D seismic survey carried out in the south western part of PEP 51153. MEO has recently completed reprocessing of this survey to optimise the target location.
Preparations for Puka-3 are advanced with the well expected to spud in late July. Puka-3 will be drilled from the same well pad as the producing Puka-1 and Puka-2 wells. MEO will become entitled to a 30% share of Puka oil production upon completion of Puka 3.