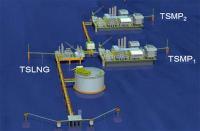 MEO Australia Limited takes an initiative to realise value from its strategic Tassie Shoal Methanol and LNG projects proposed for offshore Northern Australia.
The decision to pursue this initiative has been taken following a number of discussions with parties who had expressed interest to MEO in obtaining equity in these projects. UBS has been appointed as adviser to MEO to assist with conducting a formal process in relation to this initiative.
The Tassie Shoal projects are strategically located within the North West Australian hydrocarbon precinct, approximately 275 km from Darwin.