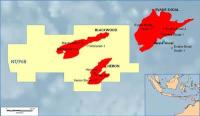 MEO Australia Limited elected to withdraw from the Blackwood gas discovery at no cost, transferring that area of NT/P68 to Eni Australia Limited (Eni). MEO will focus its technical efforts on the Heron Area over which it has a 100% Participating Interest (subject to regulatory approvals). Eni will transfer its 50% Participating Interest in the remaining area of the Permit to MEO.
MEO has made this election after assessing that the Blackwood Area 2C Contingent Resource is below the threshold size required to support development of the Tassie Shoal Methanol Project.
In consideration for MEO agreeing to withdraw from the Blackwood discovery, Eni has agreed to take responsibility for, and bear all costs involved in the process of managing the future division of the Permit to facilitate separate ownership of the Blackwood and Heron resources. In the event that regulatory approval to divide the Permit on acceptable terms to Eni is not achieved, the entire Permit, will revert to MEO.