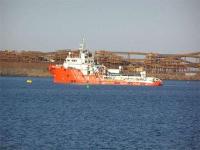 Mainboard-listed Mermaid Maritime Public Company Limited has officially marked the start of its new vessel / rig construction by participating in a steel cutting ceremony for its performance class tender rig 'MTR-3' and DP2 multipurpose subsea dive support and construction vessel 'Mermaid Ausana'.
The ceremony took place at the shipyards of China Merchants Heavy Industry in China in Nantong and Shenzhen, respectively. The 'MTR-4', which will be identical to the 'MTR-3', is scheduled to have its steel cutting ceremony two months later.
The 'MTR-3' and 'MTR-4' will be state-of-the-art performance class tender assist drilling rigs incorporating the latest modern design features, and will be the most advanced tender rigs in the market when they are delivered in 2016.